So many of us wish we could train our dogs to act and think like humans, but the next best thing is just as awesome.
Check out these GIFS of dogs acting like humans and let the mindblowing fun begin!
Dogs need lots of exercise, right? What better way to do it than with sports?
Here's a bulldog skateboarding. Yes, you read that right.
But what if we told you that that's all it can do. Here's another fun shot of a bulldog jet skiing.
Correct me if I'm wrong, but is that a Bearded Collie on a scooter? Nay, riding a scooter?
Aside from sports and riding human-approved self-pedalled transportation, dogs have fun in other ways too like with entertainment!
Dogs can act like humans with friends too. Here's a Terrier and Poodle dancing. Is that the tango or the waltz?
Yorkies doing the boogie!
Here's a Pug enjoying some music…
And here he is making some music!
Dog love to play too, right? But can they play as humans? Yes. Yes, they can.
A Shiba Inu on a rocking horse and loving it.
A little Dachshund getting hyped over his iPad…
Chihuahuas be getting massages…
But dogs have their own problems too.
Like finding a new home…
Trying to keep their jobs…

And wondering what to do with all that well-earned cash.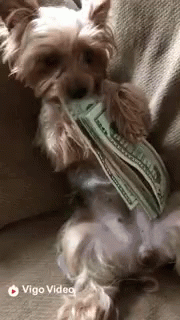 Lastly. Keeping their diet in check.
Here's a couple of bonuses:
A dog acting better than a human.
And a dog that's Super Human!